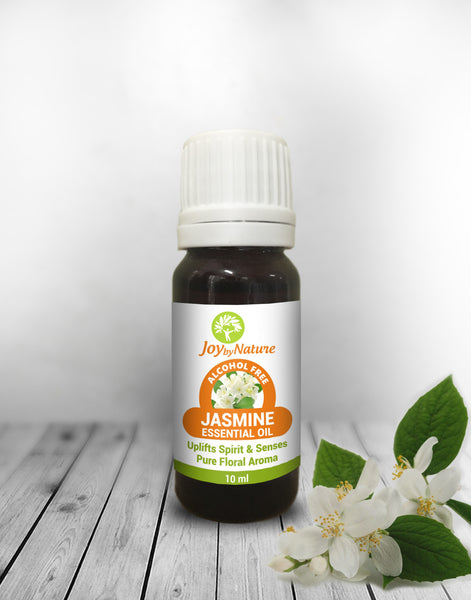 Joybynature Jasmine Essential Oil 10ml
Promotes strength and vitality
Increases blood circulation
Helps relieve muscle and joint pain
Helps in removing scars
Joybynature Jasmine Essential Oil 10ml
Description
Jasmine is considered as the king of flowers due to its strongly scented perfumed aroma. Joybynature jasmine essential oil is one of the most coveted essential oils. It is extracted from the freshly handpicked white petals of Jasmine. Jasmine whose official name is Jasminum officinale has a warm, exotic, flowery fragrance that relaxes, pacify, uplifts, and enhances self-confidence.
Joybynature jasmine essential oil is beneficial for the skin also. From ancient times onwards, the flower has been widely used for portraying feminine energy and also assists in balancing hormonal imbalances. It is also a very effective sexual stimulant where tensions and inhibitions are removed and positive energy and thoughts are instilled.
The blissful aroma of Joybynature jasmine essential oil will lessen the degree of headaches, depression, fatigue and stress leading to total body relaxation .It can also be applied on skin as a good moisturizer. It is also a good toner which balances the pH levels of your skin. It has strong anti ageing properties and fights against aging signals. Joybynature jasmine essential oil is also a good moisturizes which can be used during winters. Regular use of Joybynature jasmine essential oil will make your skin soft, supple and shining with a youthful glow along with strong flowery fragrance.
Joybynature jasmine essential oil is having a very warm and relaxing aroma which is preferred by both men and women but mostly, it is used by women. A woman who applies Joybynature jasmine essential oil on her skin will release a soothing fragrance, thus lifting the mood for successful sexual relationships. It is also a brain stimulant which increases blood circulation and activates the brain cells.
Joybynature jasmine essential oil is very affordably priced without any compromise on quality. The flowers of jasmine are plucked during the night hours as it tends to have strong scent during night time. Joybynature jasmine essential oil is extracted from the finest quality of jasmine flowers available in the world, thus ensuring best results for satisfying your needs and requirements.
Ingredients
The main ingredients of Joybynature jasmine essential oil is the purely extracted jasmine oil from the petals of jasmine. Its fragrance lifts the mood and it has strong aphrodisiac properties.
Benefits
Relaxing mind and body: Joybynature jasmine essential oil is a very relaxing and revitalizing essential oil which effectively fights off symptoms of depression. It reinforces positive energy and serves as the best tonic for sexual problems like impotence and frigidity. It also thus boosts the confidence, thus releasing from inhibitions and other negative energy.
Skin care: Joybynature jasmine essential oil helps in improving elasticity of skin and also assists in removing stretch marks. A small quantity of Joybynature jasmine essential oil can be applied on to the surface of the skin, for a healthy shine and glow. It also diminishes scars, marks, and blemishes and also fights in aging.
Enhances blood circulation: One feels tired if there is less oxygen supply to brain and other body parts. Joybynature jasmine essential oil has strong scent which stimulates brain cells, thus pumping more blood to all organs.
Removes toxins: Regular massage using Joybynature jasmine essential oil helps in releasing stuffiness and tension in body joints and also flushes out internal body toxins, thus cleansing the whole system, and giving a rejuvenated experience.
Aromatherapy: Joybynature jasmine essential oil is the basic foundation element of aromatherapy. It is the best aphrodisiac which boost libido and ignite romance and spice up sex life. It also can reduce the symptoms of sexual dysfunction, erectile dysfunction, frigidity, and general disinterest in sexual activity with partners.
Antidepressant: Joybynature jasmine essential oil boosts mental activity and pumps blood circulation, thus successfully acting against sadness, loneliness and other related symptoms.
How To Use
Joybynature jasmine essential oil is best used as the massage oil or it can be blended with a few drops of warm bath water.
Joybynature jasmine essential oil can be used as a diffuser and in aromatic potpourris which can be used to lift depression, anxiety and nervousness.
It can also be used to relive muscular pain, sprains, and stiff limbs.
Joybynature jasmine essential oil can be blended with other essential oils to erase stretch marks and scars.
About Brand
Joybynature is aimed at inspiring Nature led Wellbeing globally. Joybynature offers unique Natural and Certified Organic products across wide range of categories including Food, Health and Beauty and works with premium quality authentic producers of natural and organic products to ensure that Nature's best reaches your doorstep. These producers are based in the hubs of organic farming across the country - locations such as Almora (Uttarakhand), Kangra (Himachal), Satara (Maharashtra), Mysore (Karnataka). Each product is thoroughly tested for presence of chemicals and harmful substances before it is made available to you - the esteemed Joybynature customer.
Joybynature is committed to enhancing individual Joy, Wellbeing and Longevity globally by offering top quality products and credible related information. Joybynature's commitment is best reflected through its policy:
TRUST Joybynature: If you are not satisfied with any Joybynature brand product after 15-day of use, Joybynature will refund you the money for the same - no questions asked.
Joybynature is a journey towards revolutionalising wellbeing among people. Managed by a highly experienced team with International WorkEx and education from IIT, IIM and INSEAD, Joybynature is growing rapidly to be the Most Preferred choice among Natural and Organic products.
Contact Info: web: www.joybynature.com; email: info@joybynature.com ; tel: +91 11 39595895
Joyfully Free of
Harmful Chemicals
Natural Beauty